**This post may contain affiliate and ad links from which I could recieve a small commission**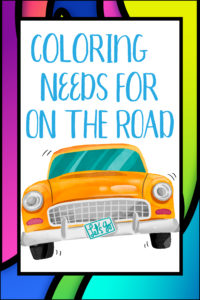 You are used to coloring every day in the evening to relax and get ready for a peaceful sleep, but now you have a family vacation coming up or a needed road trip. Do you have to give up your daily coloring until you get back home? Actually, you don't, there are many ways you can still color even in the comfort of your vehicle, RV, Camper, or Tent. Of course, if you are going to be staying in a Hotel room, you don't need anything different than what you have at home.
One of the first things you will need is some sort of stable surface to color on. It just so happens that there are products out there that make great solutions for such a problem.
This portable folding table gives you a sturdy surface just about anywhere. In your car, truck or RV. You can even use this while sitting on the floor or sitting on the ground leaning against a tree overlooking a lake while you are camping. Most people use this as a laptop table or even a place to eat breakfast. But us colorers know we can use this to color on when needed. Especially since it also has a great storage area to place a coloring book or two along with your crayons, colored pencils or markers.
At home you have the ability to just place all your crayons, coloring pencils and fine markers in a desk drawer. Stack your coloring books neatly on a shelf. But when traveling you do not have that option. Not only can it be frustrating having your stuff piled loose in your suitcase or pocketbook, but they are also subject to breaking. Nothing worse then having a busted leaking marker in your pocketbook. So you need to make sure you have some sort of way to transport your coloring supplies not only safely, but also to keep everything to gather for easy use.
You can stop by a goodwill near you or any 2nd hand shop and find an old laptop bag fairly cheap. They are large enough for multiple coloring books, some have divided pockets inside so you can put your books in one and your colored pencils, etc. in the other. But don't forget, you will want to buy a small hard case o put your loose markers or colored pencils in to help protect them from getting broke.

This pencil case can hold up to 120 colored pencils. But since it does not come with the pencils, you could also use this to put in some fine point sharpie markers or whatever kind of small markers you have. With a little imagination, this case would work perfectly for transporting your coloring utensils of choice.
Something else you want to keep in mind, is that you may not always have the proper lighting. So be sure to take along some sort of portable light source. And since you won't always be near a power supply, you might want to make sure it is battery powered and LED. The LED is not only a brighter light for the low amount of energy use, but also allow the batteries to last longer.

This Portable Light is collapsible for easy storage when not in use. It has 3 different levels of brightness and has 24 BRIGHT white LEDs. Not only does it run on 4 AA batteries, but it also has a USB cord. So if you are somewhere with your laptop, you can plug your light into your laptop to prolong its use.
I hope this article has helped you figure out things you can do to make sure your next trip can not only involve your coloring past time, but also help remove any stress you may have on how to make sure you can enjoy coloring comfortably.
a